Sony BDP-S500 Blu-ray Player
Compare Prices for the Sony BDP-S500
Click each retailer/price for more information...
Note: If a retailer appears more than once, that will probably be due to them offering the BDP-S500 in a bundle in addition to the product on its own. Hover over each price to see a full product description.
You can return directly to this page in the future by adding it to your favourites.
Introducing the BDP-S500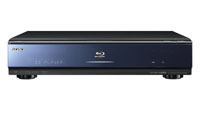 Now is the time to enter into the next level of high definition with the new Sony BDP-S500 Blu-ray player
The superb rigid beam and motorized sliding front panel makes this player a dream to own for any manic home cinema fanatic!
This player is assured to make your Blu-ray movies literally come alive with pristine high definition images which are displayed at a whopping 1080p, along with this is the now standard DVD upscaling that is seen in many of todays Blu-ray players.
The amazing 24p True Cinema video and sound output, along with cinema-tuned picture presets as also seen in the BDP-S300 enables you to see films as expected by the original directors.
This player features LPCM, Dolby® TrueHD and DTS® High Definition audio signal decoding for an amazing sound, talk about a treat for the ears of the viewer!
With BRAVIA® Theatre Sync, you can control your compatible BRAVIA HDTV and Sony Audio/Visual system with the press of a single button.
Sony is one of the many manufacturers that we have price comparison for in the category of Blu-ray Players.
Compare Prices for other Sony Blu-ray Players
Sony BDP-S500 Features
The BDP-S500 is one of Sony's top-end Blu-ray playing devices on the market, being the "big-brother" of the BDP-S300.
The BDP-S500 adds many missing features to the BDP-S300, including Dolby True HD and DTS HD sound decoding, something which should really be included with all Sony Blu-ray players. From the outset, you can see a marked improvement in the design of the BDP-S500 over the BDP-S300 player. This is mainly due to the motorised front panel which is an elegant feature shown when pressing the open/close buttons.. Also, not surprising, the casing is slightly larger, capable of holding more technological features. Despite this extra size, the player is still a classy piece of equipment in any home.
The well equipped rear-panel is also a sign of not trying to show-off by Sony, it has everything you need from a media player, but without overdoing it!. This consists of the HDMI v1.3, component, S-video and composite sockets, although we'd be surprised if anyone ever used the composite socket to watch High Definition content!
Audio-wise, there's optical and coaxial digital output along with a 5.1-channel analogue output selection of sockets, this obviously allows those without an HDMI-equipped receiver to enjoy the blu-ray player without decoded HD audio soundtracks, as well as Dolby Digital and DTS.
After buying a new 1080p television, you obviously want the best HD visual entertainment possible, and this only comes from Blu-ray and this player is one great way to play them.
This player is also backward compatible to play DVD (with upscaling) and CD pre-recorded discs, although if high-definition is the only thing you're looking for then this is the player for you!
The superb 24p True Cinema output and cinema-tuned picture presets will help you to watch films as the director intended. It also supports AVCHD discs encoded with x.v.Color (xvYCC) technology, which is now an international standard for wider color space.
This new standard expands the current data range of video output by 1.8 times (approximately), allowing the BDP-S500 player to give more natural and vivid colors which is definately similar to what your eyes will see in day-to-day life.
Sony BDP-S500 Specification
Weights and Measurements
Dimensions (Approx.) : 16 15/16 x 3 15/16 x 14 1/4" (430 x 99.2 x 361mm)
Weight (Approx.) : 10 lbs 9 oz (4.8Kg)
Convenience
Audio Features
Dolby® : Dolby® Digital (Decoding); Yes (HDMI™ bitstream out)
Dolby® Digital plus Decoding : Yes (HDMI™ bitstream out)
Dolby® TrueHD Decoding : Yes (HDMI™ bitstream out)
LPCM : Yes (multi channel decoding); Yes (HDMI™ bitstream out)
MP3 Playback : Yes (Content must be in DVD+R/+RW/-R/-RW format.)
dts® Decoding : Yes (HDMI™ bitstream out)
dts® Output : No
Capability
CD : Yes (CD-DA)
DVD : Yes (Video)
Video Features
BD-R/RE Read Compatibility : Yes (BDMV format)
BD-ROM : Yes
DVD+R Read Compatibility : Yes
DVD+RW Read Compatibility : Yes
DVD-R Read Compatibility : Yes (Video Mode Only)
DVD-RW Read Compatibility : Yes (Video Mode Only)
High Definition : Full HD 1080/24p and 60p
JPEG Playback : Yes (Content must be in DVD+R/+RW/-R/-RW format.)
Screen Saver : Yes
x.v.Color™ Technology : Yes (AVC-HD Media Compatibility)
Inputs and Outputs
Analog Audio Output(s) : 2 Channel; 1 (Rear)
Coaxial Audio Digital Output(s) : 1 (Rear)
Component Video (Y/Pb/Pr) Output(s) : 1 (Rear)
Composite Video Output(s) : 1 (Rear)
HDMI™ Connection Output(s) : 1 (Rear)
IR Input(s) : No
Optical Audio Output(s) : 1 (Rear)
PCM Output(s) : Linear PCM Decoding; Linear PCM out via HDMI™ bitstream
S-Video Output(s) : 1 (Rear)
Service and Warranty Information
Limited Warranty : 1 Year Parts / 1 Year Labor
Audio
Analog-to-Digital Converter : 192KHz/24bit
Compare Prices for other Blu-ray Players