Blu-ray Player Technology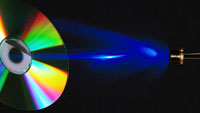 Blu-ray Technology Lasers and Optics
Blu-ray players use a blue, or rather, violet laser working at a wavelength of 405 nm to read and/or write information to the disc.
Normal DVDs and CDs tend to use red and near infrared lasers between 650 nm and 780 nm, obviously this is a lot higher than blu-ray players, which means they can't store as much information.
Since a violet laser has a shorter wavelength it makes it possible to store a lot more information on a normal CD/DVD sized disc. Diffraction limits the minimum size on which a laser can be focused, this is also dependant on the wavelength of the light and the aperture of the lens used to focus it. Blu-ray Player discs have a spot size of 580 nm. and they have other improvements in data encoding that increase capacity.
Blu-ray Hard-coating Technology
When compared to a normal DVD, Blu-ray technology has the data stored closer to the surface of the actual disc, this meant that initial discs were more vulnerable to scratches. Just like when CD's came out, the discs were contained in cartridges for protection.
TDK originally came up with a coating for Blu-ray discs for scratch protection, originally named Durabis.
Sony and Panasonic use methods during replication that include proprietary hard-coat technologies. A scratch-resistant coating is used by Sony for rewritable discs which is applied during spinning.
Blu-ray discs made by Verbatim use their own hard-coat method called ScratchGuard.
Compare Prices for Blu-ray Players
About Us
|
Privacy Policy
|
Site Map
| ©2008 blu-ray-players.org.uk
Please note that we are in no way associated with any manufacturer and/or supplier mentioned on this site. We simply offer price comparison between the various brands and suppliers found here.
StumbleUpon