Sony BDP-S300 Blu-ray Player
Compare Prices for the Sony BDP-S300
Click each retailer/price for more information...
Note: If a retailer appears more than once, that will probably be due to them offering the BDP-S300 in a bundle in addition to the product on its own. Hover over each price to see a full product description.
You can return directly to this page in the future by adding it to your favourites.
Introducing the BDP-S300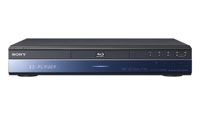 The amazing BDP-S300 Blu-ray Disc Player now gives you the chance of seeing and hearing a brand new level of enjoyment of high definition video content with an incredible player from Sony.
The clarity with this model of Blu-ray player, at 1080p gives an amazing experience, which also includes quite a common feature of DVD upscaling now seen in many players on the market.
Sony has packed in a truely outstanding home cinema experience with 24p True Cinema output. It also bundles in cinema-tuned picture presets which will allow you to watch Blu-ray and DVD movies exactly how the director hoped.
This player also comes with Sony's BRAVIA Theatre Sync technology, so you can now control any compatible BRAVIA® TV and AV systems from just the single remote.
Sony is one of the many manufacturers that we have price comparison for in the category of Blu-ray Players.
Compare Prices for other Sony Blu-ray Players
Sony BDP-S300 Features
BD-ROM Playback
The power of this Blu-ray player will rival your local cinema as part of your home cinema. You will enjoy movies straight out of Hollywood's largest studios, enjoying all of the great features on offer, with the incredible sights and sounds that Blu-ray technology offers. The biggest thing to always remember with Blu-ray technology is that it delivers Full 1080p picture resolution and up to a whopping 7.1 channels of surround sound. Needless to say, that your "Movie Night" will never be the same again.
DVD Upscaling to 1080p2 via HDMI™
With the DVD upscaling feature of this Blu-ray player, it will help you get the most out of your existing DVD collection since it will automatically upscale the picture to 1080p quality - obviously this isn't quite the same as true Blu-ray technology, but you will still see a marked improvement of the picture from your existing DVDs.
BRAVIA® Theatre Sync™ (HDMI-CEC)
Sony® created the BRAVIA® Theatre Sync™ technology to literally go beyond the basic digital audio and video transmission used in many of todays digital home cinema equipment. It is based on the HDMI-CEC feature, the BRAVIA® Theatre Sync™ feature can be found on select BRAVIA® Theatre home Audio/Visual systems and components. The great function will reduce the time and messing about in setting up the channels used for each movie. This includes routing signals, etc. which is now reduced to simply pushing a button. And if you want to play your Blu-ray Discs on your Sony® Audio/Visual equipment, well that's easy too, just pushing the play button on your (HDMI-enabled) TV remote and everything will fall into place. Finally, when you're all done and want to turn things off, you simply push a button on the TV remote again and a signal is sent to all your equipment to turn them off.
Full HD 1080/60p and 24p True Cinema Video Output
What many people don't know, is that many Hollywood films are filmed at 24 frames per second, so the Sony BSP-S300 also outputs these films at a resolution and frame rate of 1080/24p, which gives you the true movie experience which fits in perfectly to any home cinema environment. This blu-ray player can also output content at the traditional resolution and frame rate of 1080/60p which suits the current range of HDTVs on the market. Obviously, this spread of features and viewing conditions is great for a player, with always displaying at 1080p
Video Codec Format : MPEG2/MPEG4-AVC/VC-1
Blu-ray Disc technology is also compatible with different types of video codecs available, so you can record your favourite TV and film content onto the discs. Again, this means that the Sony BDP-S300 is ready for any type of video content you care to throw at it, all at 1080p HD resolutions!
Cinema Tuned Picture Presets
This blu-ray player also has a collection of tuned pre-sets that have been calculated by working closely with the worlds best film-makers, this is what happens when Sony, the worlds best home cinema producers work with film studios in Hollywood! Trying to get the "best picture" at home is now a peice of cake! It really doesn't matter if you watch films in a dark home cinema, or in a room on a summers afternoon, Sony has you covered very nicely by asking the film engineers in Hollywood.
Uncompressed Multi Channel Linear PCM Output
Blu-ray Disc technology delivers incredible sound aswell as a phenomenal picture. The size of blu-ray discs obviously allows producers to take advantage and offer uncompressed multi-channel (upto 7.1) Linear PCM sound format. The 7.1 channels is obviously important for a true surround-sound setup. This will be an experience many people aren't familiar with, when compared to the best DVD home cinema systems on the market.
Dolby® Digital Plus decoding capability
Dolby Digital Plus offers a higher-quality experience than the usual Dolby Digital soundtrack you often find on a standard DVD. Dolby Digital Plus is Dolby's next-generation audio technology that can offer up to a massive 7.1 channels of surround sound. Just imagine!
BD-Java Interactive Capability
Java is also built-in to the player to offer the potential of new interactive features previously seen on DVD. But now it's on a Blur-ray disc, there's obviously a LOT more capacity for these features. This includes seamless on-screen menus and high definition bonus materials you're probably used to. The content producers now have a literal blank canvas on which to produce some new and exciting bonus features allowing you to interact with your favourite films.
Dolby® Digital and dts® 5.1 channel Output
Multi Channel 192KHz/24bit Audio D/A Converters
Quick Set Up
FL Off/Dimmer Mode
Parental Control
Popup Menu
Screen Saver
MP3 and JPEG Playback from DVD+R/+RW, DVD-R/-RW4
DVD Video, DVD+R/+RW, DVD-R/-RW4, CD Playback
Sony BDP-S300 Specification
Weights and Measurements
Dimensions (Approx.) : 16 15/16 x 3 1/8 x 14 13/16" (430 x 79 x 375mm)
Weight (Approx.) : 10 lbs (4.5Kg)
Convenience
Audio Features
Dolby® : Dolby® Digital (Decoding); Yes (HDMI™ bitstream out)
Dolby® Digital plus Decoding : Yes
Dolby® TrueHD Decoding : No (Dolby® Digital Stream Only)
LPCM : Yes (multi channel decoding); Yes (HDMI&trade bitstream out)
MP3 Playback : Yes (Content must be in DVD+R/+RW/-R/-RW format.)
dts® Decoding : Yes
dts® Output : Yes
Capability
CD : Yes (CD-DA)
DVD : Yes (Video)
Video Features
BD-R/RE Read Compatibility : Yes
BD-ROM : Yes
DVD+R Read Compatibility : Yes
DVD+RW Read Compatibility : Yes
DVD-R Read Compatibility : Yes (Video Mode Only)
DVD-RW Read Compatibility : Yes (Video Mode Only)
High Definition : Full HD 1080/24p and 60p
JPEG Playback : Yes (Content must be in DVD+R/+RW/-R/-RW format.)
Screen Saver : Yes
x.v.Color™ Technology : Yes (output without Meta Data)
Inputs and Outputs
Analog Audio Output(s) : 2 Channel; 1 (Rear)
Coaxial Audio Digital Output(s) : 1 (Rear)
Component Video (Y/Pb/Pr) Output(s) : 1 (Rear)
Composite Video Output(s) : 1 (Rear)
HDMI™ Connection Output(s) : 1 (Rear)
IR Input(s) : No
Optical Audio Output(s) : 1 (Rear)
PCM Output(s) : Linear PCM Decoding; Linear PCM out via HDMI™ bitstream
S-Video Output(s) : 1 (Rear)
Service and Warranty Information
Limited Warranty : 1 Year Parts / 1 Year Labor
Audio
Analog-to-Digital Converter : 192KHz/24bit
Compare Prices for other Blu-ray Players