Sharp BD-HP20 Blu-ray Player
Compare Prices for the Sharp BD-HP20
Click each retailer/price for more information...
Note: If a retailer appears more than once, that will probably be due to them offering the BD-HP20 in a bundle in addition to the product on its own. Hover over each price to see a full product description.
You can return directly to this page in the future by adding it to your favourites.
Introducing the BD-HP20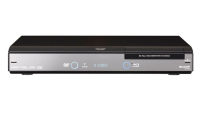 The BD-HP20 has been designed to work with AQUOS LCD TVs, which means that this Blu-ray player provides a seamless link via the AQUOS LINK™ process through the standard HDMI™ connection.
This player will perform as if it were all one system when hooked up to your TV, the BD-HP20U's "Quick Start" feature will have you watching Blu-ray Disc™ video with the touch of a single button in less than 10 seconds!
The player has eight outputs including HDMI with video being sent at the maximum 1080p resolution, the unit will also up-scale your existing DVDs to 1080P, so you can enjoy full digital high-definition video and amazing audio.
If you have a TV that can accept 1080p/24fps video pictures, this player's picture quality is amazing.
The High Definition pictures, particularly at 1080p resolution and 24 frames per second, are truly stunning with jaw dropping amounts of detail and colour, Casino Royale & Spiderman 3, to name but a few, look great!
Sharp is one of the many manufacturers that we have price comparison for in the category of Blu-ray Players.
Compare Prices for other Sharp Blu-ray Players
Sharp BD-HP20 Features
The BD-HP20 is of superb build quality, it will function quietly and it's operation is logical to anyone.
The finish of this player looks great, with a piano black finish. The BD-HP20H provides 1080p resolution for either Blu-ray discs or DVDs (by upscaling to 1080p). It also comes with a 24p progressive scan, so you will watch films as they were meant to watched.
There have been a few complaints in the past about Blu-ray players being a bit slow, so to counter these complaints, The BD-HP20 offers a "Quick Start" feature, this promises to begin playback "within seconds" and also offers full Blu-ray Java support.
Some other important features to mention are the energy saving features, support for HD sound formats with a whopping 5.1 output, HDMI 1.3, along with playback of DVD-R, CD-R, DVD-RW and CD-RW formats.
Sharp BD-HP20 Specification
Blu-ray Playback: Blu-ray Player
Blu-ray Recording: No
DivX Playback: DivX Player
DTS Decoder: DTS Decoder
DVB-C: No
DVB-S: No
DVB-T: No
DVD Audio Playback: without DVD Audio Playback
DVD Player / Recorder: DVD Player
DVD+R Playback: DVD+R Player
DVD+R Recording: No
DVD+RW Playback: with DVD+RW Playback
DVD+RW Recording: No
DVD-R Playback: DVD-R Player
DVD-R Recording: No
DVD-RAM Recording: No
DVD-RW Playback: DVD-RW Player
DVD-RW Recording: No
DVI Interface: Without DVI Connection
Electronic Program Guide (EPG): No
Ethernet: No
Firewire IEEE-1394 Interface: No
HD-DVD Playback: No
HD-DVD Recording: No
HDMI Interface: With HDMI Connection
Integrated VCR: without Integrated VCR
IPTV (Internet Protocol Television): No
MP3 Recording: No
MPEG4 Recording: No
Power Consumption Standby in Watts: 0.6
Progressive Scan: Yes
Real Dolby: Dolby Digital Plus
Show View: without Show View
Super Audio CD Playback: without Super Audio CD Playback
Super Video CD / Video CD Playback: Yes
Table / Portable: not Portable
Type of Memory Stick Interface: No
Type of SD Card Interface: No
USB Interface: No
W-LAN Connection: No
Compare Prices for other Blu-ray Players