Sharp BD-HP10 Blu-ray Player
Compare Prices for the Sharp BD-HP10
Click each retailer/price for more information...
Note: If a retailer appears more than once, that will probably be due to them offering the BD-HP10 in a bundle in addition to the product on its own. Hover over each price to see a full product description.
You can return directly to this page in the future by adding it to your favourites.
Introducing the BD-HP10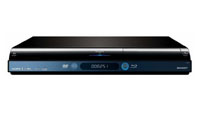 The Sharp BD-HP10 will take your home entertainment to a new level.
Whether you watch Blu-ray discs, or your old DVD collection, both the BD-HP10 will produce stunning video images, since even your DVDs will be "upscaled" to 1080p resolution.
The BD-HP10 sends video output at 1080p (progressive scan) resolution, the best quality video available these days with all new HDTVs.
This player will also play your music CDs.
Sharp is one of the many manufacturers that we have price comparison for in the category of Blu-ray Players.
Compare Prices for other Sharp Blu-ray Players
Sharp BD-HP10 Features
One of the best things about BD-HP10 is the amazing price.
The next thing to notice are all the amazing features, which to honest you would come to expect fro a High Definition blu-ray player these days. These include 1080p playback, backward compatibility for lots of old DVD formats, this range just about covers all the writable and re-writable variations.
Your old DVDs will also be upscaled to 1080p, and you can even view your photos on it!
Output on this Blu-ray player comes via HDMI and the well-known 24p frame-rate, this is the format designed to present movies as they were recorded by the studios.
The BD-HP10 also includes analogue 7.1 channel output, this is in addition to the digital optical and coaxial outputs found on many players these days. This obviously means that if you have an 'older' AV receiver, you can get connected in no-time.
Sharp BD-HP10 Specification
AQUOS Link (control via HDMI)
Slimline piano black design
BD-ROM/RE/R High-Definition Playback
DVD Video, DVD-RW/R, DVD+RW/R
CDDA, CD-RW/R
1080p Out
DVD up-conversion up to 1080p
1080p and 24Hz Cinema output via HDMI
Quick Start function
Energy saving
Playback Hi-Def BD-ROM
HDMI Jack & 1080p Out
Full-digital Hi-Definition Video
High-Fidelity audio
no signal deterioration
Compare Prices for other Blu-ray Players