Sony PS3 Blu-ray Player
Compare Prices for the Sony PS3
Click each retailer/price for more information...
Note: If a retailer appears more than once, that will probably be due to them offering the PS3 in a bundle in addition to the product on its own. Hover over each price to see a full product description.
You can return directly to this page in the future by adding it to your favourites.
Introducing the PS3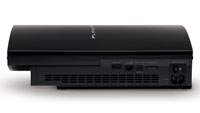 The PS3 has a great modern design with a very quiet operation, no hums or noise from noisy fans here!.
All games are in High Definition and with a user-interface similar to that of a PSP. It also plays Blu-ray discs and also will upscale your existing DVDs.
Playing online is FREE, something not seen by many other games consoles.
This games console has built-in Wi-Fi and a "flash" memory card reader, along with a large hard disk drive.
Being able to play your old PS1 and PS2 games is obviously possible with all backwards compatibility being hardware based.
The more expensive PS3 with a 60GB hard drive makes this an appealing alternative to the earlier model and being able to play PS2 games.
Although the PlayStation3 was launched late after much hype, a full year after the XBox 360, and at the time of launch, the console didn't have many games readily available, that has now all changed.
Sony is one of the many manufacturers that we have price comparison for in the category of Blu-ray Players.
Compare Prices for other Sony Blu-ray Players
Sony PS3 Features
This Blu-ray player combines a feature-rich games console, so not only can you watch Blu-ray films in High Definition, you also get a great games console with all output being delivered at 1080p reolution.
It will play Blu-ray discs, aswell as DVDs, CDs and SACDs, and not forgetting your old PS2 game titles.
Available at the time of writing are 2 configurations for the PlayStation3 (PS3), the core features are the same - an amazing Blu-ray Player, a decent sized hard disk drive, "Cell" chip, and a Giga-bit Ethernet card to give an "always-on" connection to the network or Internet.
The 60GB hard drive version also have a compact flash memory card reader, something seen on the Wii, but also support for SD and Memory Stick Duo.
This games console also has a pretty obvious HDMI output connection for hooking the device up to your new High Definition TV.
In terms of playing HD content, the PlayStation3 has at it's base, the Cell Broadband processor, which was designed and built in partnership with IBM, Sony, and perhaps a little surprisingly, Toshiba.
The player has a multi-core design, with a whopping 8 "synergistic processing elements", with each of these capable of perfect "parallel" processing. To put it simply, the processor is literally turbo-charged to deal with any task given to it!
As you can see by the images of the PS3, the design is one of the more modern for a Blu-ray player.
Whichever version you go for, they're both equipped with 256MB RAM and another 256MB of GDDR3 VDRAM, this is the third generation graphical DDR VRAM.
The PS3 also comes with full 7.1 channels of Dolby's lossless TrueHD codec, this comes with Dolby Digital and DTS as standard.
It must however also be noted that there isn't any multi-channel analog audio output.
Sony PS3 Specification
CPU: Cell Processor
PowerPC-base Core @3.2GHz
1 VMX vector unit per core
512KB L2 cache
7 x SPE @3.2GHz
7 x 128b 128 SIMD GPRs
7 x 256KB SRAM for SPE
1 of 8 SPEs reserved for redundancy total floating point performance: 218 GFLOPS
GPU: RSX @550MHz
1.8 TFLOPS floating point performance
Full HD (up to 1080p) x 2 channels
Multi-way programmable parallel floating point shader pipelines
Sound
Dolby 5.1ch, DTS, LPCM, etc. (Cell-base processing)
Memory
256MB XDR Main RAM @3.2GHz
256MB GDDR3 VRAM @700MHz
System Bandwidth
Main RAM: 25.6GB/s
VRAM: 22.4GB/s
RSX: 20GB/s (write) + 15GB/s (read)
SB: 2.5GB/s (write) + 2.5GB/s (read)
System Floating Point Performance
Storage
HDD
Detachable 2.5" HDD slot x 1
I/O
USB: Front x 4, Rear x 2 (USB2.0)
Memory Stick: standard/Duo, PRO x 1
SD: standard/mini x 1
CompactFlash: (Type I, II) x 1
Communication
Ethernet (10BASE-T, 100BASE-TX, 1000BASE-T) x3 (input x 1 + output x 2)
Wi-Fi: IEEE 802.11 b/g
Bluetooth: Bluetooth 2.0 (EDR)
Controller
Bluetooth (up to 7)
USB2.0 (wired)
Wi-Fi (PSP®)
Network (over IP)
AV Output
Screen size: 480i, 480p, 720p, 1080i, 1080p
HDMI: HDMI out x 2
Analog: AV MULTI OUT x 1
Digital audio: DIGITAL OUT (OPTICAL) x 1
CD Disc media (read only)
PlayStation CD-ROM
PlayStation 2 CD-ROM
CD-DA (ROM), CD-R, CD-RW
SACD Hybrid (CD layer), SACD HD
DualDisc (audio side), DualDisc (DVD side)
DVD Disc media (read only)
PlayStation 2 DVD-ROM
PLAYSTATION 3 DVD-ROM
DVD-Video: DVD-ROM, DVD-R, DVD-RW, DVD+R, DVD+RW
Blu-ray Disc media (read only)
PLAYSTATION 3 BD-ROM
BD-Video: BD-ROM, BD-R, BD-RE
Compare Prices for other Blu-ray Players