Sony BDP-S350 Blu-ray Player
Compare Prices for the Sony BDP-S350
Click each retailer/price for more information...
Note: If a retailer appears more than once, that will probably be due to them offering the BDP-S350 in a bundle in addition to the product on its own. Hover over each price to see a full product description.
You can return directly to this page in the future by adding it to your favourites.
Introducing the BDP-S350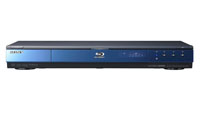 Slim and stylish Blu-ray player of the next generation: Home Entertainment as close as it can be to the original theatrical experience with 1080p full HD, 24 true cimena and 7.1channel surround sound.
Sony is one of the many manufacturers that we have price comparison for in the category of Blu-ray Players.
Compare Prices for other Sony Blu-ray Players
Sony BDP-S350 Features
Multimedia guaranteed with BD-ROM/R/RE, DVD-+Video/R/RW, CD Playback, AVCHD Playback
Ultimate sound experience through 7.1 Channel HD audio bitstream out via HDMI™ (Ver1.3)
D-Live ready: Just connect the player to the internet and download the latest firmware to access studio-specific online content including trailers, interviews and other extras through your Blu-ray Disc™ Player.
The Quick Start-up mode enables you to enjoy your Blu-ray movies already after just six seconds (6 sec).
With 24p True Cinema you can sit back and watch the film like in real cinema, without length or quality losses.
x.v.Color™ allows the S350 to output more natural and vivid colours similar to what the human eye actually sees in the natural world.
Sony BDP-S350 Specification
Playback
BD-ROM
BD-R (Blu-Ray Disc Recordable)
BD-RE (Blu-Ray Disc Re-Recordable)
DVD (Digital Versatile Disc)
DVD+R/RW (Re-Recordable)
DVD -RW (Re-Recordable)
DVD-R (Recordable)
MP3 (MPEG-3)
VCD (Video CD)
CD-R (Recordable)
CD-RW (Re-Recordable)
SVCD (Super Video CD)
JPEG (JPEG/Image CD)
DivX® Video Compatible
Convenience
Parental Lock/Parental Control
Connections
1 x HDMI Connection
1 x S-Video Connection
1 x Component Video Connection
1 x Euro Scart Connection
1 x Composite Video Connection
1 x Ethernet Connection
Power,Weight & Dimensions
2.9 Kg Unit Weight (Approx)
220 - 240V Mains Power
26 W Power Consumption
0.3 W Standby Power Consumption
430 x 60 x 220 Dimensions (h x w x d)
Compare Prices for other Blu-ray Players
About Us
|
Privacy Policy
|
Site Map
| ©2008 blu-ray-players.org.uk
Please note that we are in no way associated with any manufacturer and/or supplier mentioned on this site. We simply offer price comparison between the various brands and suppliers found here.
StumbleUpon