Samsung BD-UP5000 Blu-ray Player
Compare Prices for the Samsung BD-UP5000
Click each retailer/price for more information...
Note: If a retailer appears more than once, that will probably be due to them offering the BD-UP5000 in a bundle in addition to the product on its own. Hover over each price to see a full product description.
You can return directly to this page in the future by adding it to your favourites.
Introducing the BD-UP5000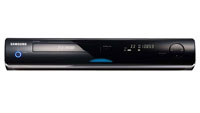 The Samsung BD-UP5000 is definately a high-end Blu-ray player. The remote control is what you'd tend to expect from a Samsung product, although missing the backlight features as seen on most other Samsung remotes.
It's also worth noting that their remotes don't support any discrete IR codes.
Setting up the BD-UP5000 is simple to install and setup and you should be watching High Definition content in no-time. Whether this is some new Blu-ray discs, or even your old DVD collection, since the player will upscale DVD content to High Definition.
Samsung is one of the many manufacturers that we have price comparison for in the category of Blu-ray Players.
Compare Prices for other Samsung Blu-ray Players
Samsung BD-UP5000 Features
The BD-UP5000 Blu-ray and HD-DVD player was positioned as the flagship home-cinema player in Samsung's growing line of high definition players.
The device offers HQV (Hollywood Quality Video) film processing and the unit supports both Blu-ray and HD-DVD formats as well as Samsungs interactive technologies, BD Java and HDi
The BD-UP5000 has a Silicon Optix Reon chip for upscaling normal standard definition (SD) video content from your existing DVD collection. It has to be said that the SD upscaling with this player is truely amazing.
The HDMI video output with this player can support 1080p60 and 1080p24 in addition to many other common resolutions you may be used to.
1080p24 is definately worth a mention, since many Hollywood films are recorded at 24 frames per second, this means that you can watch video content as the director hoped for. This is without introducing a 3:2 ratio pull-down sequence.
Samsung BD-UP5000 Specification
General
Product Type: Blu-Ray disc and HD DVD player
Form Factor: Tabletop
VCR
Sound Output Mode: Surround Sound
Analog Video Signal: S-Video, Component video, Composite video
DVD
Media Types: CD, DVD, CD-R, CD-RW, DVD+R, DVD-R, BD-ROM, DVD+RW, DVD-RW, HD DVD
Video D/A Converter: 12bit / 216MHz
Audio D/A Converter: 24bit / 192kHz
Built-in Audio Decoders: DTS decoder, Dolby TrueHD, Dolby Digital, DTS-HD decoder, Dolby Digital Plus
Media Load Type: Tray
DVD Upscaling: Yes
Output Resolutions: 720p, 1080i, 1080p
Audio System
Digital Audio Formats: DTS digital output, Dolby Digital output
Additional Features: MP3 decoding
DVD Features
MP3 Compatible: Yes
Additional Features: JPEG photo playback
Connections
Audio line-out ( RCA phono x 2 ) - Rear
1 x 7.1 channel audio line-in - Rear
Digital audio output (optical) ( TOSLINK ) - Rear
Digital audio input (coaxial) ( RCA phono ) - Rear
HDMI output - Rear, Component video output ( RCA phono x 3 ) - Rear
S-Video output ( 4 pin mini-DIN ) - Rear
Composite video output ( RCA phono ) - Rear
Ethernet Network
Compare Prices for other Blu-ray Players