Samsung BD-P1500 Blu-ray Player
Compare Prices for the Samsung BD-P1500
Click each retailer/price for more information...
Note: If a retailer appears more than once, that will probably be due to them offering the BD-P1500 in a bundle in addition to the product on its own. Hover over each price to see a full product description.
You can return directly to this page in the future by adding it to your favourites.
Introducing the BD-P1500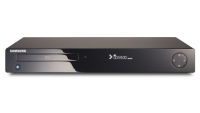 The Samsung BD-P1500 allows you to experience the difference in Blu-ray technology. You receive superbly detailed pictures with great colour in the top-most 1080p. Obviously, the great picture quality isn't the only thing you'll get out of this player. The BD-P1500 comes combined with Samsung's Anynet+ technology which as you may know if you currently own a new Samsung High Definition television, allows you to control all of your Samsung products from the single remote.
Full 1080p picture resolution gives you an outstanding High Definition quality. You can now enjoy richer colours via the extended "gamut YCC" colour technology. The device transmits HDMI 1.3 bandwidth , to always make sure you're getting the strongest signal possible to your other devices.
An Ethernet network connector allows you to check for online firmware updates via the Internet.
Samsung's advanced sound technology, including Dolby Digital Plus, and True-HD, gives you great sound quality for the best HD viewing experience.
Samsung is one of the many manufacturers that we have price comparison for in the category of Blu-ray Players.
Compare Prices for other Samsung Blu-ray Players
Samsung BD-P1500 Features
With the BD-P1500, you gfet very little fan noise, and certainly none whilst playing Blu-raydiscs, perhaps a little when track-searching.
Great loading speeds, including ejecting discs, this isn't incredible, but is certainly enough for what you'd expect from a top-of-the-range media player.
The Ethernet port is great for getting future firmware updates and capabilities to receive updates for BD 2.0 features.
The picture quality and sound quality are amazing and with the HD audio capabilities, you will be amazed!
The Samsung BD-P1500 is a relatively cheap player when compared to the current market for a stand-alone Blu-ray player. The hardware-based decoder for Dolby TrueHD and bit stream output for other High-Definition output makes this a fore-runner in the blu-ray player market place.
Samsung is poised to incorporate "Profile 2.0" and hardware based DTS-HD Master Audio decoders in the near future.
The front panel of the BD-P1500 is a great glossy black, unfortunately, it doesn't have a bezel effect, but this is purely from an aesthetic point of view. This was one thing seen in the previous BD-P1400.
The Samsung BD-P1500 is certainly one of the most elegant Blu-ray players seen on the market in a long time.
Samsung BD-P1500 Specification
General
Width: 16.9 in
Depth: 10.8 in
Height: 3.3 in
Weight: 8.6 lbs
System
VCR
Sound Output Mode: Stereo
DVD
Media Type: CD, DVD, BD-R, CD-R, BD-RE, CD-RW, DVD-R, BD-ROM, DVD-RW
Built-in Audio Decoders: DTS decoder, Dolby TrueHD, Dolby Digital, Dolby Digital Plus
Media Load Type: Tray
Supported Digital Video Standards: VC-1, H.264, MPEG-2
Supported Digital Audio Standards: PCM
Upscaling: Yes
Output Resolution: 480i, 480p, 576i, 576p, 720p, 1080i, 1080p
Audio System
Digital Audio Format: DTS digital output, Dolby Digital output
Response Bandwidth: 4 - 44000 Hz
Dynamic Range: 100 dB
Signal-To-Noise Ratio: 110 dB
Total Harmonic Distortion: 0.003 %
Additional Features: Upgradeable firmware
DVD Features
Additional Features: BD-Live, JPEG photo playback, Progressive scanning
Remote Control
Type: Universal remote control
Technology: Infrared
Connections
Connector Type: 1 x HDMI ( 19 pin HDMI Type A ) - Rear, 1 x Component video output ( RCA phono x 3 ) - Rear, 1 x Composite video/audio output ( RCA phono x 3 ) - Rear, 1 x Digital audio output (optical) ( TOSLINK ) - Rear, 1 x Network ( RJ-45 ) - Rear, 1 x USB - Rear
Power
Power Consumption Operational: 28 Watt
Power Device: Power supply
Power: AC 120 V
Manufacturer Warranty
Service & Support: 1 year warranty
Service & Support Details: Limited warranty - Parts - 1 year, Limited warranty - Labor - 90 days
Compare Prices for other Blu-ray Players