Samsung BD-P1400 Blu-ray Player
Compare Prices for the Samsung BD-P1400
Click each retailer/price for more information...
Note: If a retailer appears more than once, that will probably be due to them offering the BD-P1400 in a bundle in addition to the product on its own. Hover over each price to see a full product description.
You can return directly to this page in the future by adding it to your favourites.
Introducing the BD-P1400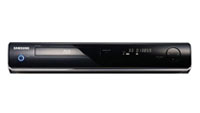 The Samsung's BD-P1400 is one hell of a great centerpiece to your home cinema environment.
You can always count on Samsung to create a home-cinema experience a seamless and amazing experience for the viewer. This is due in the main part to the High-Definition Multimedia Interface (HDMI™) along with the included Consumer Electronic Control (CEC), which means that a simple click of one remote control can access any digital device found in your Samsung home entertainment system.
Also, when it comes to displaying HD video content, HDMI is the way to go for any HDTV.
The BD-P1400 is Samsung's time to issue a Blu-ray player with all the features missing from its debut deck, this time however, it all comes with a much lower price.
Compared to many earlier Samsung Blu-ray players, the design has been massively improved, the glossy all-over black finish is a joy to have in the home, along with a sloping fascia and subtle blue lighting, in addition to the silver strip along the bottom of the device that's seen in many of Samsung's products these days.
Samsung is one of the many manufacturers that we have price comparison for in the category of Blu-ray Players.
Compare Prices for other Samsung Blu-ray Players
Samsung BD-P1400 Features
In addition to playing Blu-ray discs, the Samsung BD-P1400 can also play "standard-definition" DVDs and CDs, with DVD's being upscaled to 1080p resolution, so you'll also notice a marked improvement in playing your old DVD collection, many will seriously demand another watch!.
Something worth noting here is that the BD-P1400 cannot play HD DVD dics. But since HD-DVD is now redundant, that should matter too much, unless you've already bought some.
This Blu-ray player provides the features you desperately need for a superb entertaining experience. The advanced Blu-ray technology gives you crisp, clear images, and features in the player allow you to adjust picture quality in terms of sharpness and noise reduction.
The inclusion of Dolby® Digital Plus and Dolby TrueHD compatibility finishes off the true HD experience.
High resolution sound is supported by this device and is certainly an excellent feature. Decoding of Dolby Digital Plus, Dolby TrueHD, and DTS-HD High Resolution are all hardware-based, which means that you can have these delivered as PCM format over HDMI, or as standard analog output.
With the BD-P1400 you are certainly in full control of all your Samsung devices with the use of Anynet+, giving you a streamlined, one-touch control across all Anynet compatible devices in your home.
Anynet+ allows you to control all connected devices with a single remote.
In terms of connectivity with the BD-P1400, there's the standard HDMI output which is capable of carrying both 1080p video signals along with high-resolution audio.
There's also S-Video output and composite for standard-definition only devices. Talking about audio, this can be delivered via 5.1-channel analog outputs, including optical and coaxial digital outputs, and finally, there's normal stereo analog outputs.
Finally in terms of connectivity, there's an Ethernet port used to connect to a network and the Internet do you can download and upgrade the firmware, this has been a quite common feature with DVD players, but is only now being sen among Blu-ray players.
Samsung BD-P1400 Specification
General
Product Type: Blu-Ray disc player
Form Factor: Tabletop
Width: 16.9 in
Depth: 12.8 in
Enclosure Color: Black
Height: 3.1 in
Weight: 9.3 lbs
System
VCR
Sound Output Mode: Surround Sound
DVD
Media Type: CD, DVD, BD-R, CD-R, BD-RE, CD-RW, DVD-R, BD-ROM, DVD-RW
Video D/A Converter: 10bit / 108MHz
Audio D/A Converter: 24bit / 192kHz
Built-in Audio Decoders: DTS decoder, Dolby Digital
Media Load Type: Tray
Supported Digital Video Standards: H.264, MPEG-2
Supported Digital Audio Standards: MP3, PCM
Upscaling: Yes
Output Resolution: 480i, 480p, 576i, 576p, 720p, 1080i, 1080p
Audio System
Digital Audio Format: DTS digital output, Dolby Digital output
Response Bandwidth: 4 - 44000 Hz
Dynamic Range: 103 dB
Signal-To-Noise Ratio: 120 dB
Total Harmonic Distortion: 0.003 %
Additional Features: Upgradeable firmware
DVD Features
MP3 Compatible: Yes
Additional Features: JPEG photo playback, Progressive scanning
Remote Control
Type: Universal remote control
Technology: Infrared
Connections
Connector Type: 1 x HDMI ( 19 pin HDMI Type A ) - Rear, 1 x Component video output ( RCA phono x 3 ) - Rear, 1 x Composite video/audio output ( RCA phono x 3 ) - Rear, 1 x S-Video output ( 4 pin mini-DIN ) - Rear, 1 x 5.1 channel audio line-out ( RCA phono x 6 ) - Rear, 1 x Digital audio output (optical) ( TOSLINK ) - Rear, 1 x Digital audio output (coaxial) ( RCA phono ) - Rear, 1 x Network ( RJ-45 ) - Rear
Miscellaneous
Cables Included: A/V cable
Power
Power Device: Power supply
Type: Power supply
Manufacturer Warranty
Service & Support: 1 year warranty
Service & Support Details: Limited warranty - Parts and labor - 1 year
Compare Prices for other Blu-ray Players