Samsung BD-P1200 Blu-ray Player
Compare Prices for the Samsung BD-P1200
Click each retailer/price for more information...
Note: If a retailer appears more than once, that will probably be due to them offering the BD-P1200 in a bundle in addition to the product on its own. Hover over each price to see a full product description.
You can return directly to this page in the future by adding it to your favourites.
Introducing the BD-P1200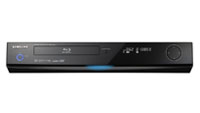 The BD-P1200 with its true HQV 1080i to 1080p High Definition (HD) de-interlacing feature, gives the sharpest and most detailed HD video output imaginable.
You won't see notice any jagged edges with the per-pixel algorithm that works independently on each and every pixel in a scene. This is combined with the sophisticated multi-directional diagonal filter.
To put it simply, it doesn't get much better than this for a home cinema experience.
Switching on the "Movie Frame" feature will let you adjust the Blu-ray player's HDMI output to a perfect 24 frames per second, as originally filmed by the Hollywood studios, for an even more improved video picture quality.
The powerful hardware-based engine for HQV processing can also provide per-pixel noise-reduction, including detail enhancement and an advanced scaling, which results in delivering premium quality upconverted Standard Definition video content from your existing DVDs.
Converting SD to the preferred HD means that the unit has to resize and upscale the image up to 6 times.
Samsung is one of the many manufacturers that we have price comparison for in the category of Blu-ray Players.
Compare Prices for other Samsung Blu-ray Players
Samsung BD-P1200 Features
The original
BD-P1000
had a few issues for serious home-cinema experts.
The BD-P1200 looks to address many of these issues. It will play CDs with ease and now has a HDMI 1.3 port, although the audio support seen in this player still has a little to be desired. Mainly, the audio output support is still lacking a little.
Playing Blu-ray discs along with DVD discs is obviously excellent, and this player now has a new slick design.
As with many new Samsung designs, this device features a shiny black front panel with 3 buttons. The front panel would be prone to the odd finger-print, but it would be quite surprising if you operated it that way!
The directional control on the front of the player gives access to play/pause, stop, forward, and back.
With the BD-P1200 can watch Blu-ray and your current DVD discs, obviously this also includes standard music CDs.
The later version of HDMI (1.3) gives more colour and greater colour gamuts.
Samsung has included Silicon Optix HQV video processing in the BD-P1200 which gives great film quality.
Samsung BD-P1200 Specification
General
Product Type: Blu-Ray disc player
Form Factor: Tabletop
Width: 16.9 in
Depth: 12.8 in
Height: 3.1 in
Weight: 9.3 lbs
System
VCR
Sound Output Mode: Surround Sound
DVD
Media Type: CD, DVD, BD-R, CD-R, BD-RE, CD-RW, DVD+R, DVD-R, BD-ROM, DVD+RW, DVD-RW, DVD-RAM, DVD-ROM
Video D/A Converter: 12bit / 216MHz
Audio D/A Converter: 24bit / 192kHz
Built-in Audio Decoders: DTS decoder, Dolby Digital, Dolby Digital Plus
Media Load Type: Tray
Changer Capacity: 1
Picture Modes: Letterbox, Widescreen, Pan and scan
DVD Repeat Modes: Title, Chapter, A-B repeat
CD Playback Modes: A-B repeat, Skip playback
Supported Digital Video Standards: MPEG-2
Supported Digital Audio Standards: MP3
Output Resolution: 480i, 480p, 720p, 1080i, 1080p
Audio System
Digital Audio Format: DTS digital output, Dolby Digital output, MPEG 2 digital output
Response Bandwidth: 4 - 44000 Hz
Digital Output Sample Rate: 48KHz, 96KHz
Dynamic Range: 100 dB
Signal-To-Noise Ratio: 110 dB
Total Harmonic Distortion: 0.003 %
DVD Features
Picture Zoom: Yes
Picture Zoom Power: 2x, 4x
HDCD decoding: Yes
MP3 Compatible: Yes
Additional Features: Anynet+, HDCD decoding, Parental lock, On-screen display, JPEG photo playback
Remote Control
Type: Universal remote control
Technology: Infrared
Connections
1 x HDMI ( 19 pin HDMI Type A ) - Rear
1 x Composite video output ( RCA phono ) - Rear
1 x S-Video output ( 4 pin mini-DIN ) - Rear
1 x Audio line-out ( RCA phono x 2 ) - Rear
1 x Digital audio output (coaxial) ( RCA phono ) - Rear
1 x Digital audio output (optical) ( TOSLINK ) - Rear
1 x Component video output ( RCA phono x 3 ) - Rear
1 x Rear channel output ( RCA phono x 2 ) - Rear
1 x Front channel output ( RCA phono x 2 ) - Rear
1 x Center channel audio output ( RCA phono ) - Rear
1 x Subwoofer output ( RCA phono ) - Rear
1 x Network ( RJ-45 ) - Rear
Miscellaneous
Cables Included: 1 x A/V cable
Power
Power Consumption Operational: 40 Watt
Power Device: Power supply
Type: Power supply
Power: AC 120 V
Manufacturer Warranty
Service & Support: 1 year warranty
Service & Support Details: Limited warranty - Parts - 1 year, Limited warranty - Labor - 90 days
Dimensions & Weight (Shipping)
Width (Shipping): 20.2 in
Depth (Shipping): 16.9 in
Height (Shipping): 7 in
Weight (Shipping): 13.9 lbs
Compare Prices for other Blu-ray Players