Pioneer BDP-LX70 Blu-ray Player
Compare Prices for the Pioneer BDP-LX70
Click each retailer/price for more information...
Note: If a retailer appears more than once, that will probably be due to them offering the BDP-LX70 in a bundle in addition to the product on its own. Hover over each price to see a full product description.
You can return directly to this page in the future by adding it to your favourites.
Introducing the BDP-LX70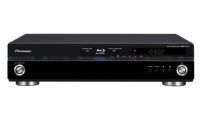 See and hear your favourite movies with the BDP-LX70 as the director intended when the film was recorded.
The BDP-LX70 squeezes only the very best out of your high definition content and it sends this output in what Pioneer call "master quality", which is quite literally as the film-makers intended. Playback is seen at 1080p resolution and and 24 frames per second.
Pioneer calls this feature "HD Digital Film Direct" which they created to ensure that you watch high definition video pictures at at exactly the same speed and using the same 24 frames per second as the film was produced.
The Pioneer BDP-LX70 Blu-ray player supports Dolby TrueHD which means that you not only receive the top quality video output, but the sound quality will be out of this world! The sound output is lossless, which means no distortion, noise, or interference. Once again, you'll be hearing the film as it was originally recorded and produced.
Pioneer is one of the many manufacturers that we have price comparison for in the category of Blu-ray Players.
Pioneer BDP-LX70 Features
The Pioneer BDP-LX70 will upscale your old DVDs to 1080p resolution so even these old films will definately need another viewing!
When reviewed, many people said that the picture quality was simply the best they'd seen by any other top Blu-ray players.
To test this, the BDP-LX70 was ran in 1080p/24fps mode into a Pioneer 508XD plasma TV (running at 72Hz) - the result was an absolutely stunning picture!
One nice feature of the BDP-LX70 is that it can also receive compressed audio, movie and image files on your home computer network.
This blu-ray player is also DLNA™ compatible via an Ethernet connection, so you can also stream content such as MPEG2, WMV9, WMA9 Pro, MP3 and JPEG files direct from your home PC to the player, a very nice feature indeed!
The LX70 is built to an outstanding standard as you'd expect from Pioneer, which startss to makie you realise just how good quality stuff must be inside!
It looks to have all the connections you'd need, including the obvious HDMI along with component video outputs. Combined with this are two digital audio outputs, optical and coaxial. To complete the audio connections, you also get 5.1-channel audio line-out which will deliver perfect Dolby TrueHD to your Audio/Video receiver.
Pioneer BDP-LX70 Specification
The Basics
1080p Output: Yes
1080p/24 Output: Yes
720p/1080i Output: Yes
Colour: Black
Connectivity
5.1 Output
Coaxial/Optical Digital Audio Ouptut
Component Video Output
HDMI Output
LAN Port
S-Video Output
Video Output
The Rest
Dimensions: 420 x 103 x 353
Display Type: LCD
Dynamic Range: 108
Ethernet: yes
Features: Windows Media Connect / Home Media Gallery / Advanced Disc Navigator with moving thumbnails
Harmonic Distortion: 0.0015
HDMI Ports: 1
MPN: BDPLX70
Playable Formats: MP3
Power Consumption (Operational): 0.5
Power Consumption (Standby): 35
Power Supply: AC 220 - 240V 50/60 Hz
Progressive Scan: Yes
Remote Control: Yes
Remote Control Type: Standard Infrared
Signal-To-Noise Ratio: 115
Sound Output Modes: Dolby Digital, Dolby Digital Plus, Dolby True HD, DTS
Supported Format (Progressive): 1080p
Supported Media: BD-ROM, CD, CD-R, CD-RW, DVD, DVD Plus R, DVD Plus RW, DVD-R, DVD-RW, DVD-Video, JPEG-CD, MP3-CD
Video Compatibility: NTSC, PAL
Video Upscaling: Yes
Weight (kg): 6.5
Compare Prices for other Blu-ray Players