Panasonic DMP-BD55 Blu-ray Player
Compare Prices for the Panasonic DMP-BD55
Click each retailer/price for more information...
Note: If a retailer appears more than once, that will probably be due to them offering the DMP-BD55 in a bundle in addition to the product on its own. Hover over each price to see a full product description.
You can return directly to this page in the future by adding it to your favourites.
Introducing the DMP-BD55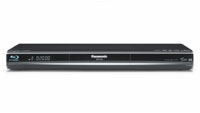 PHL Reference Chroma Processor Plus is a high quality image-processing technology developed by Panasonic to precisely process each pixel of the Blu-ray Disc video signal in the vertical direction. It reproduces colour data with twice the accuracy of conventional systems to keep colours faithful and sharp. P4HD processes more than 15 billion pixels per second and applies the optimal processing to every pixel. So that it can render progressive images superbly, expresses motion smoothly, and draws crisp diagonal lines.
The DMP-BD55 can decode HD Audio (Dolby TrueHD, Dolby Digital Plus and DTS-HD) and output 7.1ch digital audio signal. The resulting audio is studio master quality sound. This signal can be connected to an HDMI compatible receiver that does not support HD Audio Codec. Besides, the 7.1-channel analog signal converted by 192kHz D/A converter is transmitted in high quality. This signal can be connected to a receiver that does not support HDMI.
Panasonic is one of the many manufacturers that we have price comparison for in the category of Blu-ray Players.
Compare Prices for other Panasonic Blu-ray Players
Panasonic DMP-BD55 Features
BD-Live* lets users access to the Internet to download data such as images and subtitles, and to join in quizzes and multi-player interactive games that are linked to bonus movie content contained on Blu-ray disc. *BD-ROM Profile 2. Actual functions vary depending on the Blu-ray disc media.
Simply press the VIERA Link button on the VIERA's remote control and select "Player" on the VIERA Link Menu screen. The Blu-ray Disc player's menu will display on the TV screen, and you can begin playback of a Blu-ray disc or select from the Blu-ray disc menu.
The DMP-BD55 is equipped with a card slot that makes it easy to transfer images from an HD camcorder or digital still camera that uses SD Memory Cards. Simply insert the card, and the DMP-BD55 fills a large-screen TV with AVCHD-format video images or JPEG stills in full 1920 x 1080 resolution.
Very pleased with this player , It decode the latest audio sounds so if you don't have an amp that can do this you can use the multi channel inputs on your amp and let the blu ray player decode , this player is very slim in design and operation is as quiet as a mouse , great picture quality , i think this is the best player for the price , takes a little time to setup but is well worth the money.
Panasonic DMP-BD55 Specification
Product Description: Panasonic DMP-BD55EG-K - Blu-Ray disc player
Product Type: Blu-Ray disc player
Dimensions (WxDxH): 43 cm x 24.2 cm x 5.5 cm
Weight: 2.6 kg
Media Type: CD-R, CD-RW, DVD-RAM, DVD-R, DVD+RW, DVD-RW, DVD+R, DVD, CD, DVD+R DL, BD-R, BD-RE, BD-ROM, DVD-R DL
Upscaling: Yes
Built-in Audio Decoders: Dolby Digital Plus, DTS-HD decoder, Dolby TrueHD
Remote Control: Universal remote control
Sound Output Mode Surround Sound
Form Factor: Tabletop
Enclosure: Colour Black
Compare Prices for other Blu-ray Players