Panasonic DMP-BD50 Blu-ray Player
Compare Prices for the Panasonic DMP-BD50
Click each retailer/price for more information...
Note: If a retailer appears more than once, that will probably be due to them offering the DMP-BD50 in a bundle in addition to the product on its own. Hover over each price to see a full product description.
You can return directly to this page in the future by adding it to your favourites.
Introducing the DMP-BD50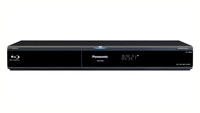 As of the summer of 2008, Panasonic's DMP-BD50 Blu-ray player is undoubtably the best-performing Blu-ray player you can buy.
This player offers totally unmatched levels of clear picture quality currently seen on the market, this can easily be seen as surpassing the PS3, and Panasonic have also been clever-enough to ensure this player is future-proof.
The Internet connection via Ethernet will ensure that upgrading the players' firmware will be easy to anyone with a home internet connection.
If you're looking for the best performing Blu-ray player on the market, this is most definately the player for you!
Panasonic is one of the many manufacturers that we have price comparison for in the category of Blu-ray Players.
Compare Prices for other Panasonic Blu-ray Players
Panasonic DMP-BD50 Features
Unlike the DMP-BD30 the BD50 is now offering built-in hardware-based audio decoders for Dolby TrueHD and DTS-HD Master Audio.
Whereas the BD30 could "bitstream" the high quality audio to a HDMI v1.3-capable amplifier, the BD50 takes this a step further with its own internal decoder making it possible for anyone who has an amp without High Definition audio decoding or HDMI inputs to gain the benefits.
Round the back of this player you'll find an Ethernet network port which means that BD-Live content is now accessible, although this is still a new technology. This is in addition to the Viera Link-capable HDMI output of this Blu-ray player, Panasonic certainly are now certainly taking Blu-ray to the next level now that it has defeated HD-DVD.
Putting this Blu-ray player in place as part of your home cinema setup literally takes High Definition to the next level. Panasonic are taking the already amazing 1080p (with 24 frames per second) to the next stage.
To fully appreciate these extra features, you'll want the video image thrown up to a seriously large display.
The DMP-BD50 player doesn't support Super Audio CD or DVD-Audio, which is a slight shame, but it does an amazing job of playing your normal audio CDs. This device offers very low levels of audio distortion, here we mean that even a computer has trouble finding a problem, your ears certainly won't face any issues! This results in a clean signal from all of the multichannel analogue outputs.
Panasonic DMP-BD50 Specification
General
Product Type: Blu-Ray disc player
Form Factor: Tabletop
VCR
Sound Output Mode: Surround Sound
DVD
Built-in Audio Decoders: Dolby TrueHD, DTS-HD decoder, Dolby Digital Plus
Media Load Type: Tray
DVD Upscaling: Yes
Output Resolution: 1080p
Audio System
Digital Audio Format: Dolby Digital output, DTS digital output
Additional Features: HDAVI control
DVD Features
Additional Features: BD-Live, Progressive scanning
Remote Control
Type: Remote control
Technology: Infrared
Connections
Connector Type: HDMI - Rear, Network - Rear
Power
Power Device: Power supply
Type: Power supply
Slot(s)
Compare Prices for other Blu-ray Players