Panasonic DMP-BD30 Blu-ray Player
Compare Prices for the Panasonic DMP-BD30
Click each retailer/price for more information...
Note: If a retailer appears more than once, that will probably be due to them offering the DMP-BD30 in a bundle in addition to the product on its own. Hover over each price to see a full product description.
You can return directly to this page in the future by adding it to your favourites.
Introducing the DMP-BD30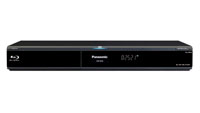 The new DMP-BD30 Blu-ray player from Panasonic is a true award winner.
It's fully featured player that blasts out High Definition video to your HDTV for a truely amazing experience in Home Cinema!
The DMP-BD30 is the first pure Blu-ray player to finally support the Profile 1.1 standard which has been talked about for a while, it's known as "Bonus View". This amazing technology allows you to use the advanced interactive features that you'll find on many Blu-ray discs, just like DVD, but a million times better.
Features include picture-in-picture commentary, so you can watch the film, and at the same time, watch the director talk you through the movie - this is a serious must for any film buff.
Panasonic is one of the many manufacturers that we have price comparison for in the category of Blu-ray Players.
Compare Prices for other Panasonic Blu-ray Players
Panasonic DMP-BD30 Features
The DMP-BD30 brings slim looks, picture-in-picture features and a thrilling audio-visual experience.
This is certainly one of the very few new Blu-ray Players that really shows what the Blu-ray technology is capable of with a whole host of extra features not seen on other Blu-ray players on the market.
Blu-ray and High-Definition is here to literally blow your socks off, and the BD30 does an amazing job of that, you'll wonder how you managed with Standard Definition content for so long after just a few seconds of watching true High Definition.
The BD30 is one class-act when it comes to playing Blu-ray media on a HDTV.
This player comes with excellent 1080p video resolution at 24 frames per second, just as it was recorded, with the amazing performance of this player, it's a real winner for any home cinema setup.
The images you get out of this player are truely stunning, thanks to Panasonic's P4HD (Pixel Precision Progressive Processing for HD) image processing. This feature delivers razor sharp 1080p video in addition to 24 frames per second. The motion you'll watch is also incredibly smooth without losing any definition or any sign of shudder.
One important feature of any Blu-ray player is the upscaling of your current DVD collection, obviously the BD30 does this without breaking a sweat. You'll seriously need to re-watch your entire DVD collection in HD, especially on a nice big LCD or plasma HDTV.
The audio out from this player is also fantastic. Via HDMI, the Panasonic DMP-BD30 supports bitstream output of Dolby TrueHD, DTS-HD and Dolby Digital Plus. Try to imagine the best quality sound you've heard and you're probably not even close to what this device packs out.
The DMP-BD30 also supports Standard Dolby Digital and DTS and can be sent out via HDMI, coaxial or the optical digital connection, or even from the 5.1ch or stereo analogue sockets. Whatever your home-cinema set-up may be, the DMP-BD30 will seriously amaze you when it's delivering a superb performance.
At last, Blu-ray technology is finally unleashed in full. If you're looking for a fully immersive high definition experience, look no further than the Panasonic DMP-BD30.
Panasonic DMP-BD30 Specification
General
Model: DMP-BD30
Manufacturer: Panasonic
Chipset: Panasonic UniPhier
Post-processor: None
BD profile: Bonus View (1.1)
Video
Video resolutions: 480p, 720p, 1080i, 1080p
DVD upconversion: 720p, 1080i, 1080p
Video frame rates: 60i, 24p, 60p
Media
BD media: BD-ROM, BD-R, BD-RE
DVD media: DVD-ROM, DVD-R, DVD-R DL, DVD-RW, DVD+R, DVD+R DL, DVD+RW, DVD-RAM
CD media: CD-ROM, CD-R, CD-RW
Playback video
MPEG-2: Yes
MPEG-2 HD: Yes
MPEG-4: Yes
MPEG-4 AVC (H.264): Yes
VC-1: Yes
DivX: No
DivX HD: No
DivX Ultra: No
XviD: No
XviD HD: No
JPEG: Yes
JPEG HD: Yes
Playback audio
Dolby Digital: Yes
Dolby Digital+: Yes
Dolby TrueHD: No
Dolby TrueHD (bitstream): Yes
DTS: Yes
DTS-HD: Yes
DTS-HD MA: No
DTS-HD MA (bitstream): Yes
PCM: Yes
WMA: No
WMA Pro: No
MP3: Yes
OGG: No
AAC: No
AAC+: No
SACD: No
DVD Audio: No
Connections
HDMI: 1
HDMI version: 1.3a
HDMI audio output: 7.1
HDMI CEC: No
DVI: No
Composite: 1
Component: 1
S-video: 1
Optical: 1
Analog: 1
Analog audio output: 5.1
Coaxial: 1
Ethernet: No
Wireless: No
Firewire: No
USB: No
Converters
Video DAC: 12bit / 148.5MHz
Audio DAC: 24bit / 192kHz
Remote
Remote included: Yes
Universal: No
Programmable: No
Bluetooth: No
Infrared: Yes
Backlight: No
Dimensions
Width: 43.02cm
Height: 5.97cm
Depth: 32.07cm
Weight: 3.31kg
Power
Operation: 25W
Power supply: AC 120V, 60Hz
Compare Prices for other Blu-ray Players