Panasonic DMP-BD10 Blu-ray Player
Compare Prices for the Panasonic DMP-BD10
Click each retailer/price for more information...
Note: If a retailer appears more than once, that will probably be due to them offering the DMP-BD10 in a bundle in addition to the product on its own. Hover over each price to see a full product description.
You can return directly to this page in the future by adding it to your favourites.
Introducing the DMP-BD10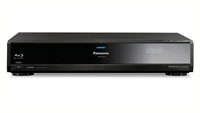 The DMP-BD10, is Panasonic's first Blu-ray Player to the market.
The Panasonic DMP-BD10A, the second-generation of the player which was released in 2007, has all of the same features you'd expect, but without recording functionality. This was done to try and reduce the manufacturing costs.
This Blu-ray Player gives you a level of image and sound processing quality that is something you've never seen before.
Panasonic is one of the many manufacturers that we have price comparison for in the category of Blu-ray Players.
Compare Prices for other Panasonic Blu-ray Players
Panasonic DMP-BD10 Features
The DMP-BD10 supports CDs and DVDs as standard, but this also includes the feature of discs recorded with AVCHD Camcorders.
The BD10 contained a BD-R drive, but Panasonic decided to disable the write feature via the hardware-based firmware.
A typical Blu-ray disc can contain a huge amount of video and audio data. To unleash the full potential, you'll need a Blu-ray player that can provide 62.2 million pixel-per-second video processing plus audio features which is around 1,000 times more than typical CD player.
The DMP-BD10 obviously goes far beyond those specifications coming from a company such as Panasonic. It can handle 15 billion pixel-per second processing speeds and a great 192kHz/24bit audio output for each of all eight channels.
Panasonic pay special attention to the features in easy operation of their equipment. The DMP-BD10 comes equipped with HDAVI Control, a special function that allows the linking of the operation of an HDAVI Control compatible TV and receiver, this means you can control both at the same time with a single button on a single remote.
With the DMP-BD10, Panasonic is now inviting you to realise an entirely new field of high definition entertainment, this includes High Definition video output along with amazing audio quality which goes beyond anything you've previously experienced.
Panasonic DMP-BD10 Specification
General
Product Type: Blu-Ray disc player
Form Factor: Tabletop
Width: 16.9 in
Depth: 13.1 in
Height: 3.3 in
Weight: 10.4 lbs
VCR
Sound Output Mode: Surround Sound
Analog Video Signal: S-Video, Component video, Composite video
DVD
Media Type: CD, DVD, BD-R, CD-R, BD-RE, CD-RW, DVD+R, DVD-R, BD-ROM, DVD+RW, DVD-RW, DVD-RAM, DVD+R DL, DVD-R DL
Video D/A Converter: 14bit / 296MHz
Audio D/A Converter: 24bit / 192kHz
Built-in Audio Decoders: DTS decoder, Dolby Digital, Dolby Digital Plus
Media Load Type: Tray
Search Speed: Up to 200x
Supported Digital Audio Standards: MP3
Upscaling: Yes
Output Resolution: 1080p
Audio System
Surround Sound Effects: Advanced Virtual Surround Sound (VSS)
Dynamic Range: 118 dB
Signal-To-Noise Ratio: 125 dB
Additional Features: HDAVI control
DVD Features
MP3 Compatible: Yes
Additional Features: Slow motion mode, Dialogue enhancer, JPEG photo playback, Progressive scanning, 3:2 pull down compensation
Remote Control
Type: Universal remote control
Technology: Infrared
Connections
1 x Component video output ( RCA phono x 3 ) - Rear
1 x S-Video output ( 4 pin mini-DIN ) - Rear
1 x Composite video output ( RCA phono ) - Rear
2 x Audio line-out ( RCA phono x 2 ) - Rear
1 x 7.1 channel audio line-out ( RCA phono x 8 ) - Rear
1 x SPDIF output ( RCA phono ) - Rear
1 x SPDIF output ( TOSLINK ) - Rear
Compare Prices for other Blu-ray Players